Research Activities at Coral Reef Watch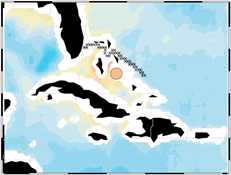 The core of our activities rests with the operational near-real-time bleaching suite of products, and the experimental products that have been added recently. We are also active in many research projects. Some of these are one-time investigations, while others may eventually lead to the next generation of operational data products.
The ultimate goal is to incorporate paleoclimatic, in situ, and satellite-based biogeophysical data to provide information, tools, and expertise on coral reef threats for managers, researchers, and stakeholders.
These research activities are often carried out in partnership with scientific collaborators from around the world. Most of our data products, experimental and operational, would not have been possible without our many research partners.
---
See a list of Coral Reef Watch papers that have been published in peer-reviewed literature.
---
For more information about any of these research studies, please
contact us.