El Ni&ntildeo-Southern Oscillation (ENSO) Conditions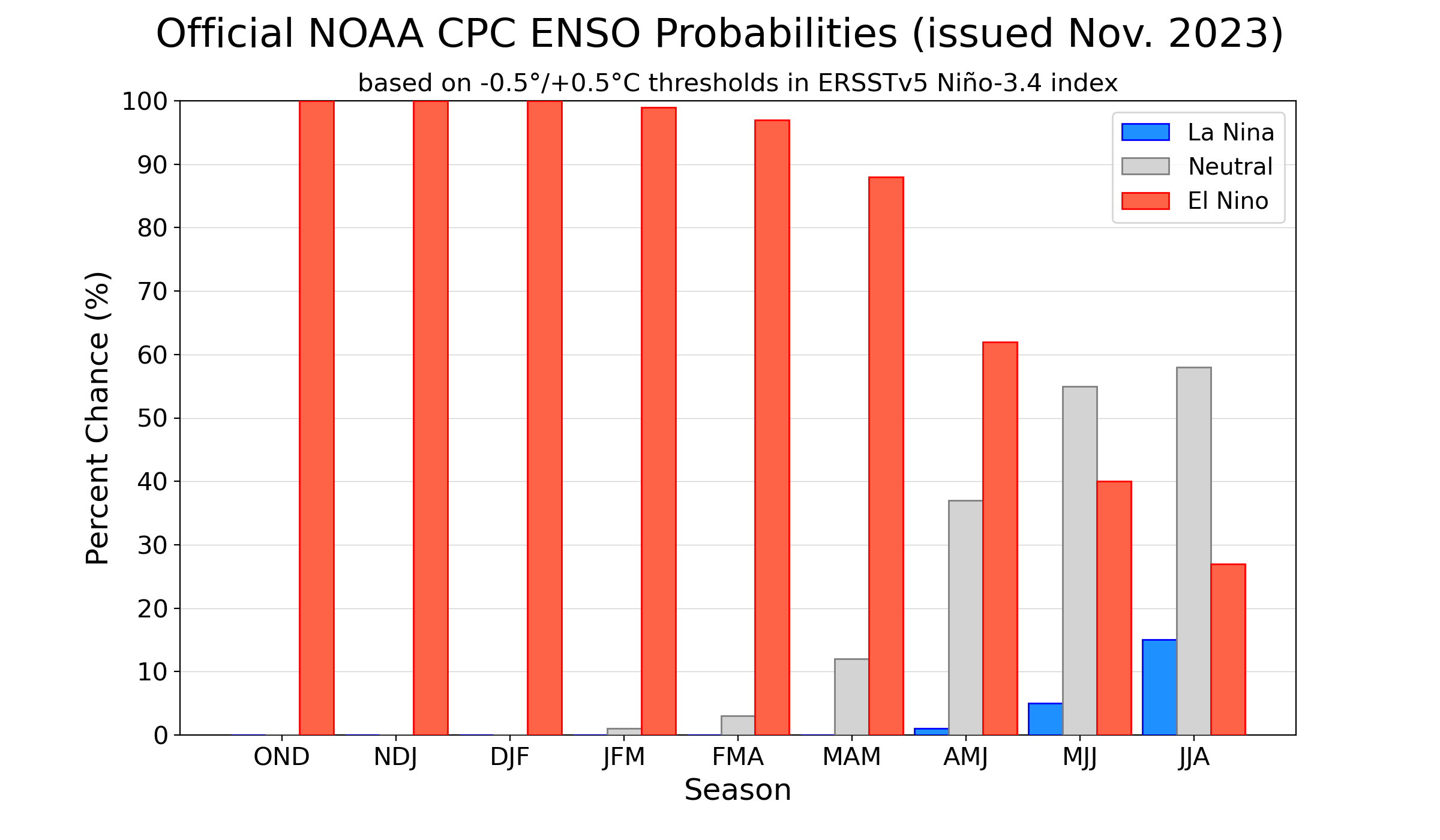 As of November 9, 2023, the NOAA National Centers for Environmental Prediction's (NCEP) El Ni&ntildeo-Southern Oscillation (ENSO) Alert System remains at
El Ni&ntildeo Advisory
. Above-average sea surface temperatures (SST) across the equatorial Pacific Ocean were indicative of a strong El Ni&ntildeo, with anomalies increasing in the central and east-central Pacific in the past month. The latest weekly Ni&ntildeo index values were: +1.4°C in Ni&ntildeo-4, +1.8°C in Ni&ntildeo-3.4, +2.1°C in Ni&ntildeo-3, and +2.2°C in Ni&ntildeo-1+2. Area-averaged subsurface temperature anomalies increased slightly, associated with the initiation of a downwelling oceanic Kelvin wave, which strengthened above-average subsurface temperatures in the central equatorial Pacific. Low-level wind anomalies were westerly in the east-central Pacific, while upper-level wind anomalies were easterly in the western and central Pacific. Convection/rainfall was enhanced around the International Date Line, extending into the eastern Pacific. Suppressed convection/rainfall strengthened around Indonesia. The equatorial Southern Oscillation Index (SOI) and the station-based SOI remained negative. Collectively, the coupled ocean-atmosphere system reflected a growing El Ni&ntildeo.
The most recent IRI plume favors El Ni&ntildeo to continue through Northern Hemisphere Spring 2024. Based on the latest forecasts, there is a greater than 55% chance of at least a "strong" El Ni&ntildeo (i.e., ≥1.5°C in Ni&ntildeo-3.4 for a seasonal average) persisting through January-March 2024. There is a 35% chance of this event becoming "historically strong" (≥ 2.0°C) for the November 2023-January 2024 season. Stronger El Ni&ntildeo events increase the likelihood of El Ni&ntildeo-related climate anomalies, but do not necessarily equate to strong impacts.
In summary, El Ni&ntildeo is anticipated to continue through the Northern Hemisphere spring (with a 62% chance during April-June 2024).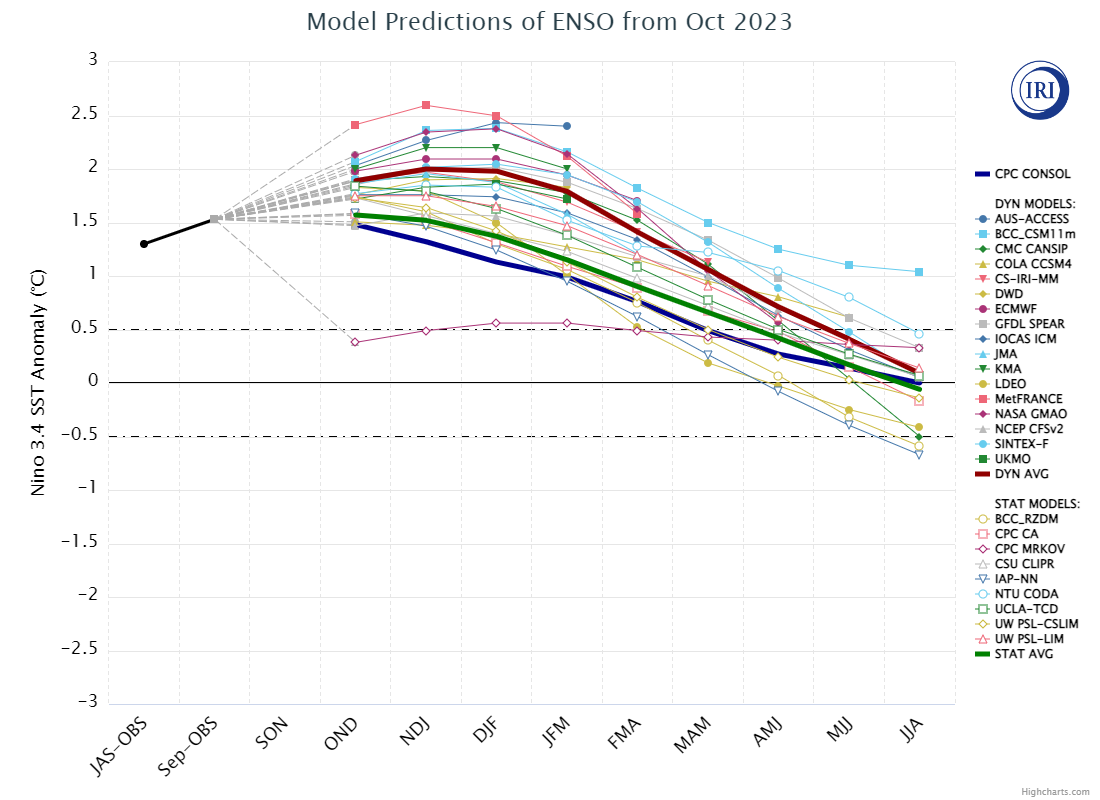 The latest Columbia Climate School International Research Institute (IRI) for Climate and Society ENSO predictions plume, pictured just above and
published

on October 19, 2023, shows forecasts made by a set of dynamical and statistical models for SST in the Ni&ntildeo-3.4 region, for nine overlapping three-month periods. The predictions plume indicates a high likelihood of El Ni&ntildeo conditions persisting during the last quarter of 2023 and first quarter of 2024. Specifically, during the rest of boreal autumn, winter and early spring, the probabilities of El Ni&ntildeo range from 100% to 95% (i.e., November 2023-January 2024 and December 2023-February 2024: 100%, January-March 2024: 99%, and February-April 2024: 95%). Thereafter, there is a rapid decrease in the probability of El Ni&ntildeo during boreal spring (March-May: 82%, April-June: 55%, May-July: 34%, and June-August 2024: 22%). The second most probable category throughout the forecast period is ENSO-neutral. ENSO-neutral becomes the most likely category during May-July (58%) and June-August 2024 (56%). The probability that La Ni&ntildea will redevelop is almost zero during most of the forecast period, but increases to 8% in May-July and 22% in June-August 2024.
---
---
---
Disclaimer
The content posted on this web page solely represents the opinions of the authors and does not constitute a statement of policy, decision, or position on behalf of NOAA or the US Government.
The appearance of external links on this World Wide Web site does not constitute endorsement by the Department of Commerce/National Oceanic and Atmospheric Administration of external Web sites or the information, products or services contained therein. For other than authorized activities, the Department of Commerce/NOAA does not exercise any editorial control over the information you may find at these locations. These links are provided consistent with the stated purpose of this Department of Commerce/NOAA Web site.