El Ni&ntildeo-Southern Oscillation (ENSO) Conditions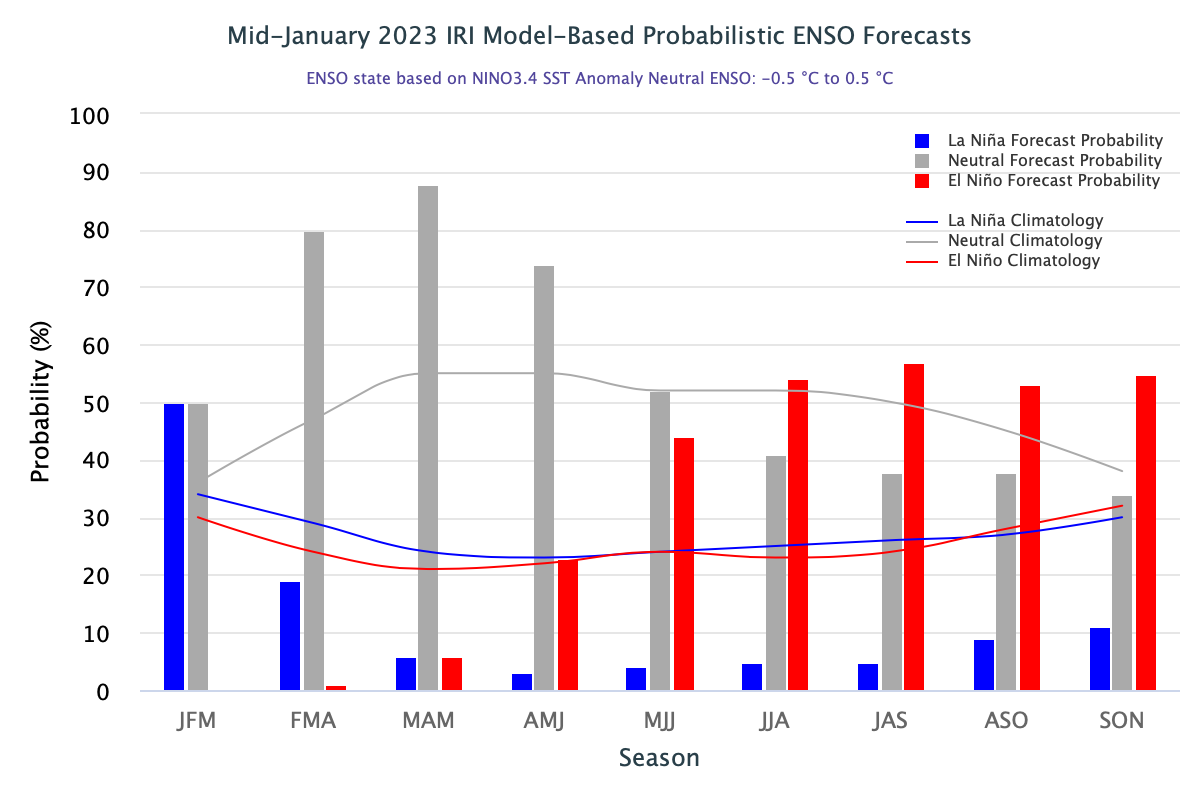 As of January 12, 2023, the NOAA National Centers for Environmental Prediction's (NCEP) El Ni&ntildeo-Southern Oscillation (ENSO) Alert System status remains at
La Ni&ntildea Advisory
. During December 2022, below-average sea surface temperatures (SSTs) weakened over the equatorial Pacific Ocean. All of the latest weekly Ni&ntildeo index values were between -0.7°C and -0.8°C. The subsurface temperature anomalies also weakened substantially, but below-average subsurface temperatures persisted near the surface and at depth in the eastern equatorial Pacific. However, the atmospheric circulation anomalies over the tropical Pacific did not notably weaken. Low-level easterly wind and upper-level westerly wind anomalies remained across most of the equatorial Pacific. Suppressed convection persisted over the western and central tropical Pacific, while enhanced convection was observed around Indonesia. Overall, the coupled ocean-atmosphere system continued to reflect La Ni&ntildea.
The most recent IRI plume predicts that La Ni&ntildea will transition to ENSO-neutral during Northern Hemisphere winter 2022-2023. Interestingly, the dynamical models indicate a faster transition (January-March 2023) than the statistical models (February-April 2023). At this time, the forecaster consensus favors the statistical models, with a transition to ENSO-neutral in the February-April season. The sustained atmospheric circulation anomalies and the weakening downwelling oceanic Kelvin wave do not support an imminent transition. However, lower accuracy during times of transition as well as when predictions are made in the spring contribute to high uncertainty.
In summary, a transition from La Ni&ntildea to ENSO-neutral is anticipated during the February-April 2023 season. As shown in the above graph, by Northern Hemisphere spring (March-May 2023), the chance for ENSO-neutral is 82%.




This next figure on the left,

published

January 19, 2023, shows forecasts, made by a set of dynamical and statistical models for SST in the Ni&ntildeo-3.4 region, for nine overlapping three-month periods. Most models in the IRI ENSO-plume indicate a termination of the current La Ni&ntildea, and a transition to ENSO-neutral conditions, during February-April 2023. Afterwards, there is a high chance for ENSO-neutral to persist until May-July 2023, with a subsequent transition to El Ni&ntildeo. The probabilities for El Ni&ntildeo remain very low until boreal spring, but during boreal summer, these probabilities become dominant (in the range of 53-57%).





---
---
---
---
Disclaimer
The content posted on this web page solely represents the opinions of the authors and does not constitute a statement of policy, decision, or position on behalf of NOAA or the US Government.
The appearance of external links on this World Wide Web site does not constitute endorsement by the Department of Commerce/National Oceanic and Atmospheric Administration of external Web sites or the information, products or services contained therein. For other than authorized activities, the Department of Commerce/NOAA does not exercise any editorial control over the information you may find at these locations. These links are provided consistent with the stated purpose of this Department of Commerce/NOAA Web site.