High-Resolution Sea Surface Temperature (Great Barrier Reef, Australia)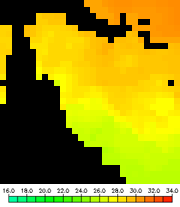 Coral Reef Watch's current operational product suite has a resolution of 50 kilometers, meaning the data are presented in pixels that are 50-km square. This spatial resolution continues to be
improved upon
, with the end goal of creating experimental, near-real-time satellite products at resolutions as fine as 1-km or sub-km scales.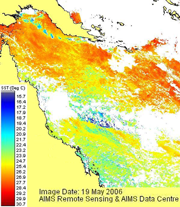 Coral Reef Watch's partners in Australia have developed experimental high-resolution (2-km) mapping products that provide information on coral bleaching risk for the Great Barrier Reef region, off the north-east coast of Australia.
Collaboration on products like these helps Coral Reef Watch enhance its next-generation sea surface temperature-based satellite products that are derived from NOAA's operational sea surface temperature analysis, which blends data from several polar-orbiting and geostationary satellites.