Nature Cover Article: Global warming and recurrent mass bleaching of corals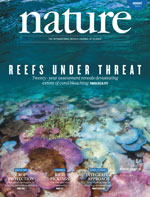 Click image for the article
or click here to read online
15 March 2017: NOAA satellite data and products have been a vital component in predicting and analyzing coral bleaching during the ongoing third global bleaching event that began in mid-2014. Several global reef locations have been repeatedly exposed to bleaching levels of heat stress during this period, bringing into question whether they can maintain key ecosystem services. Analysis of bleaching along the Great Barrier Reef (GBR) during 2016, published in the prestigious journal Nature, shows the amount of bleaching on individual reefs in 2016 was tightly linked to local high ocean temperatures. "The Great Barrier Reef was among the reefs hit the worst by the ongoing, severe global coral bleaching event," said Dr. Mark Eakin, Coordinator of NOAA's Coral Reef Watch.
According to the study's lead author, Professor Terry Hughes from the Australian Research Council Centre of Excellence for Coral Reef Studies at James Cook University, "The severity of the 2016 bleaching was off the chart", and more severe than the two previous major bleaching episodes on the GBR in 1998 and 2002.
NOAA's Coral Reef Watch program has monitored all three severe events on the GBR using satellite remote sensing, revealing that the 2016 heat exposure in the northern GBR was unprecedented. Reef resource managers, scientists, and policymakers around the world and in all seven U.S. coral reef jurisdictions rely on NOAA's predictions and satellite monitoring to prepare for and respond to bleaching events.
On the GBR, past exposure to bleaching in 1998 and 2002 did not lessen the severity of the bleaching in 2016. With GBR corals currently exposed to high levels of heat stress again in 2017, researchers have just remobilized to conduct aerial and underwater surveys to examine if impacts of heat stress are amplified with recurrent bleaching events. This adds to the list of locations (in the U.S.: Guam, the Commonwealth of the Northern Mariana Islands, Hawaii, and Florida) that has seen back-to-back years of bleaching since the ongoing global coral bleaching event began in 2014.
With such limited time for recovery, ecosystem impacts are expected to escalate. "As the globe warms we're seeing more recurrent coral bleaching events, with more downstream effects as well, including loss of shoreline protection and fish habitat, and impacts on people's livelihoods," said Dr. Eakin.

All tropical oceans were unusually hot between January 2014 and December 2016, with most coral reef ecosystems being exposed to conditions that cause severe bleaching and death of corals.
---
Key points from the study:
2015-2016 saw record temperatures that triggered a massive episode of coral bleaching across the tropics, as confirmed by both aerial and in-water surveys, including along the Great Barrier Reef.
Coral bleaching events should no longer be thought of as individual disturbances to reefs, but as recurring events that threaten the viability of coral reefs globally.
The Great Barrier Reef has had three major bleaching episodes, in 1998, 2002 and 2016, with the latest being the most severe and with catastrophic levels of bleaching occurring in the northern third of the Reef (a region approximately 800 km or 500 miles in length).
The amount of bleaching on individual reefs in 2016 was tightly linked to local heat exposure.
The cumulative, superimposed footprint of the three mass bleaching events on the Great Barrier Reef has now encompassed virtually all of the Reef.
Better water quality or reduced fishing pressure did not significantly reduce the severity of bleaching.
Past exposure to bleaching in 1998 and 2002 did not lessen the severity of the bleaching in 2016!
Paper Abstract:
During 2015-2016, record temperatures triggered a pan-tropical episode of coral bleaching, the third global-scale event since mass bleaching was first documented in the 1980s. This study examines how and why the severity of recurrent major bleaching events has varied at multiple scales, using aerial and underwater surveys of Australian reefs combined with satellite-derived sea surface temperatures. The distinctive geographic footprints of recurrent bleaching on the Great Barrier Reef in 1998, 2002 and 2016 were determined by the spatial pattern of sea temperatures in each year. Water quality and fishing pressure had minimal effect on the unprecedented bleaching in 2016, suggesting that local protection of reefs affords little or no resistance to extreme heat. Similarly, past exposure to bleaching in 1998 and 2002 did not lessen the severity of bleaching in 2016. Consequently, immediate global action to curb future warming is essential to secure a future for coral reefs.
---
NOAA's mission is to understand and predict changes in the Earth's environment, from the depths of the ocean to the surface of the sun, and to conserve and manage our coastal and marine resources. Join NOAA on Facebook, Twitter, Instagram, and other social media channels, and Coral Reef Watch on Facebook and Twitter.